Obviously, you're not a golfer
| Thursday, October 11, 2007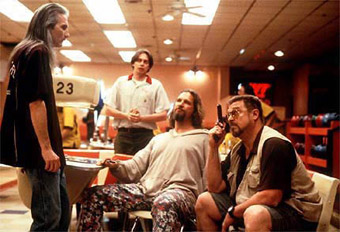 Mark that frame an eight, and you're entering a world of pain. Walter (John Goodman) brings it all back to Nam, while the Dude (Jeff Bridges) abides, and Donny (Steve Buscemi) shuts the fuck up, in the Coen brothers'
The Big Lebowski
(1998).
If you don't understand immediately what the headline of this blog entry means, then obviously, you're not a Duder.
Everybody quotes movies. But some of us quote movies more often than others, and some movies get quoted a whole hell of a lot more than others.
With us (the royal we, the editorial), it's The Big Lebowski, which for my money might be the most quotable movie of all time — and yes that includes Pulp Fiction and anything else by Tarantino.
I remember the first time I saw The Big Lebowski. I actually saw it in the theater when it was first released. I saw it in a movie theater that had maybe 15 or 20 people in it. (It was a niche movie then. Now, it's more of a mainstream cult film, hence conventions like Lebowski Fest.)
The first time I saw the Dude, I was amused, but also perplexed. Here was one meandering, pointless, self-indulgent mess of a movie. What was it about? Anything? Nothing? Was I crazy in trying to find any sort of through-line in the adventures of the Dude?
Why, yes, I was. The whole point of The Big Lebowski is that it meanders, is pointless, and is a self-indulgent mess. Those are not flaws. They're virtues.
In the process, it's one of the funniest movies ever made. The Coen brothers, Ethan and Joel, have an ear for dialog, and in The Big Lebowski they give us a head-on collision between characters with some of the zaniest (and incompatible) personalities, and who spout some of the most brilliantly inane dialog ever written.
Of course, none of this is news to the massive cadre of Dude fans out there. My discussion of the Dude in the form of a nine-year-late movie review is merely so I can identify myself among you, the Dude fans. I've seen the Dude maybe a dozen times and seen parts of it even more than that, so, yes, I'm a fan. And as a fan, I want to give back to the Dude anti-establishement: I figured it was finally time to carry out a Dude Mission that I've long been meaning to: I'm doing my part to honor Lebowski lore with the gratuitous creation of DudeQuote.com, a place of amusement intended for those who love the dialog of the Dude. (Note: If by some chance you are offended by gratuitous use of the f-word and pervasive profanity, steer clear.)
If ever a site were to simply and merely Do What It Do, it's DudeQuote.com. Instructions: Read the Dude Quote, then click on "New Quote" to get a new Dude Quote. That's it. It do what it do.
Or perhaps in this case, it Dude what it Dude.
If ever a movie demanded a random quote generator, it's the Dude's, because he's a guy who practically lives life in random order anyway.
Now, I'm not claiming this is an original idea. There are plenty of random quote generators out there for movies, and at least a few devoted to Lebowski. But that's okay. I may not be original, but I am thorough (I'm a good man, and thorough — there I go again; do you see why I had to make this site? Do you see what happens — argh, okay, stop). I've put in a lot of excerpts from the Lebowski script so that you will get more than your fill of the Dude from one site.
This site is intended for those who are in on the joke. If you're not in on the joke, this site will mean nothing to you — even less nothing than usual. If you are such a person, I will instead use this blog entry to tell you: If you like quirky comedy based on dialog and character idiosyncrasies, go out and rent The Big Lebowski this weekend. Then, when you go to work on Monday, you can quote it along with all the other El Duderinos in your workplace that have been quoting it for years.
Jammer's Big Lebowski rating:
(but that's just, like, my opinion, man)
Like this site? Support it by buying Jammer a coffee.
Submit a comment
RSS feed for comments on this post