'True Blood': A guy show for chicks?
| Tuesday, June 16, 2009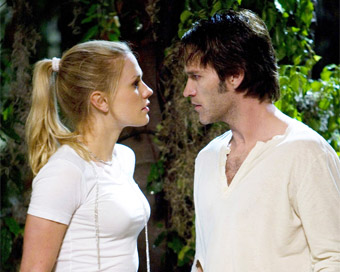 Sookie Stackhouse (Anna Paquin) and Bill Compton (Stephen Moyer) can't avert their transfixed gaze in HBO's
True Blood
.
Sunday night's season premiere of HBO's True Blood (which I found to be somewhat lacking, because it seemed mostly about reintroducing everything and everyone while laying groundwork for upcoming episodes rather than being compelling in its own right) got me thinking about the nature of gender demographics and targeted marketing and certain assumptions we tend to take for granted in popular entertainment.
True Blood in general is a cheekily entertaining if fundamentally ludicrous show. While the show has its "serious" aspirations and character arcs, it certainly doesn't go out of its way to take those serious aspirations very seriously. Its focus on cheap thrills and exploitation reaffirms that the term "potboiler" was invented for this show. (Every episode ends on an over-the-top cliffhanger.)
But I also can't help but think of this series as something of a "chick show." Or perhaps a "guy show" made for chicks.
Bear with me here as I employ the usual stereotypes about "guy movies" and "chick flicks." True Blood is a guy show in that it features hot chicks who aren't shy about getting naked, a fair amount of graphic sex, an abundance of blood and gore (scenes of vampires who get staked through the heart and dissolve into gallons of goo, heads severed with shovels, etc.), dialog that is shamelessly crude and profane, and other various trappings of your genre film for genre-philes, all set in the low-income southern grittiness of a Louisiana swampland town.
But it's a chick show in that it stars an innocent (at the beginning of the series, anyway) and plucky protagonist who is mostly sweet and good (and never, God forbid, uses four-letter words!), features key friendships between strong-willed women, has a myriad of handsome guys showing off their six-pack abs, frequently traffics in love triangles for the sake of drama, and is unabashedly melodramatically passionate in its romance-novel scenes between its star-crossed-lover leads. ("Damn it, Bill Compton! I LOVE YOU!" [Passionate embrace.])
And, of course, because it's about vampires. Vampires, as a rule, equals chick flick. (Even Underworld, with its strong female lead, seems to kinda follow the rule, although Blade admittedly does not.) Am I wrong?
Hey, I might be wrong. To be honest, this is all rhetorical and for fun. I haven't really thought it through logically or looked deeply for counter-evidence to the argument. And there is a strong case for simply calling True Blood an HBO series looking to appeal to anyone who wants a thrill ride.
But, really, when was the last well-known vampire novel written by a man? Anne Rice, Charlaine Harris — these books are by women for women. My mom reads these books. My dad, not so much.
And look no farther than Twilight, which is apparently going to be the franchise of all chick flicks. Name a guy who saw that movie who wasn't dragged there by his girlfriend/fiancee/wife, and I'll name you a woman who was counting down the days until Star Trek. Which is to say, I know they exist, but not in my immediate realm.
For that matter, how did I get into True Blood? Because my girlfriend likes the show and hooked me on it last summer, that's how.
I wonder how all these assumptions about guy movies and chick flicks, and what women/men want, got drilled into our heads and gradually accepted as fact. I know they're not absolute, and that there's crossover in all forms of entertainment (True Blood is solid proof of that), but the stereotypes still exist, and are often followed. And then, of course, there are people like me, who shine a spotlight on them for blog fodder. Hey, I'm here for you, bringing you real sociological insights that matter. You're welcome.
Like this site? Support it by buying Jammer a coffee.
Submit a comment
RSS feed for comments on this post