Jon Gruden: Hilariously awful or awesome?
| Thursday, December 30, 2010, 8:18 pm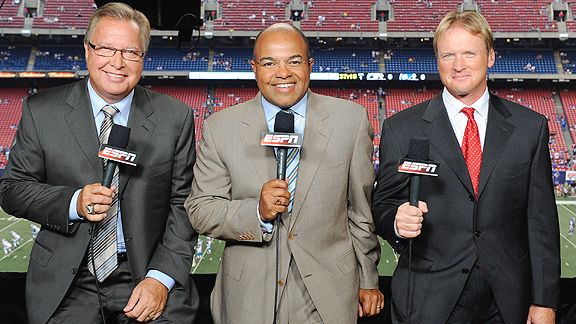 Ron Jaworsky, Mike Tirico, and Jon Gruden. That's one HECK of a football announcing lineup! (ESPN)
Since I've got nothing else right now, let's talk a little bit about the Monday Night Football announcing team, shall we?
I generally like the Monday Night Football booth lineup. Mike Tirico is a knowledgeable and excitable play-by-play guy. Ron Jaworski brings his quarterback credentials to the mix and is capable of being critical, especially of offenses (as is typical of former QBs turned color commentators). And Jon Gruden brings in the coach's perspective. The three work well together and they have good voices that sound solid and football-y.
(Yes, football-y is officially an adjective for describing football voices. Bryant Gumbel doing play-by-play on NFL Network a couple years ago, on the other hand: not football-y at all. Terrible, in fact.)
The question I have about Jon Gruden: Is he good or bad? He can be funny in a decidedly goofy, I'm-my-own-self-parody and oh-there-goes-that-goofball-again sort of way — which I admit I thought was leaving with the replacement of Tony Kornheiser.
Gruden. He's some kinduva guy. For one thing, this guy is impressed by everybody and everything. One thing he loves to say: "That [insert football player's name here] is one HECK of a football player!" Everything that happens on the field is a heckuva play or an outstanding display of skill, athleticism, or toughness. You'd think that as a former coach, Gruden wouldn't be singing the praises of every guy on a 5-9 football team, but, hey, whatever.
Granted, a certain amount of NFL announcing seems to be shameless in-game self-promotion of the league, as in, "Wow, look at how great everybody and everything about the NFL is! Aren't you glad you're watching?! You sure should be! Make sure to watch next week, even if it is between two terrible teams we wish weren't prescheduled to play in prime time!"
I think Gruden officially jumped the shark for me in the Dec. 20 game between the Bears and Vikings. Third-string Vikings QB Joe Webb was in for Minnesota in a rather lopsided losing effort against the Bears, who were on defense. I'm paraphrasing, but the exchange in question went something pretty close to this:
Gruden, analyzing the replay:
"Okay, so the Bears are only sending their front four after Webb. That leaves seven guys out in coverage. And you've got two eyeballs per guy. So that's 14 eyeballs on Joe Webb, watching to see where he's going with the ball. That's just not going to be easy for a young quarterback against a tough Bears defense."
Tirico couldn't even help himself, chuckling:
"That's some interesting math there, Jon."
In words Gruden might himself use, those are seven OUTSTANDING football players using their 14 football eyes to make a football play and win a football game. Heckuva effort. NFL. Fantastic. Whaddaya think, Jaws?
I love it. It might very well be terrible, but I'm honestly not even sure that it is. Gruden. What a card.
Have a safe and happy new year.
Like this site? Support it by buying Jammer a coffee.
Submit a comment
RSS feed for comments on this post