The Orville
| Saturday, December 9, 2017, 4:43 pm
"Mad Idolatry" is one of the best episodes of The Orville this season, and certainly the most ambitious. It also takes me back to the very first episode to explore this series' primary baggage, which is: This show tries very hard to be Star Trek (except populated by Average Joes), which means it sets itself up for comparisons and expectations that are among some of the best examples of televised sci-fi.
In the case of this episode, it uses TNG's "Who Watches the Watchers" and Voyager's "Blink of an Eye" as starting points to examine its own take on the hazards of cultural contamination. It's a worthy tale that borrows aspects of classic episodes from those respective series. It thus invites the scrutiny of serious science fiction, even while employing characters that come off as amateurs. Can it survive that scrutiny?
| Tuesday, December 5, 2017, 9:13 pm
"New Dimensions" is a split-tiered story chronicling a day at the office aboard a Union starship, merged with a TNG-era tech story that sets the record for technobabble on this series (although it's certainly not record-setting when compared to TNG or Voyager). It's like a workplace drama/comedy mixed with middlebrow sci-fi. The narrative shifts can at times be jarring, albeit not nearly as jarring as some of the early comedy/drama tonal clashes seen on this series.
Let's start with the workplace drama, which is of considerably more consequence. Part of what this episode does is offer a take on how the workings of ship-wide personnel are conducted.
| Thursday, November 30, 2017, 1:47 am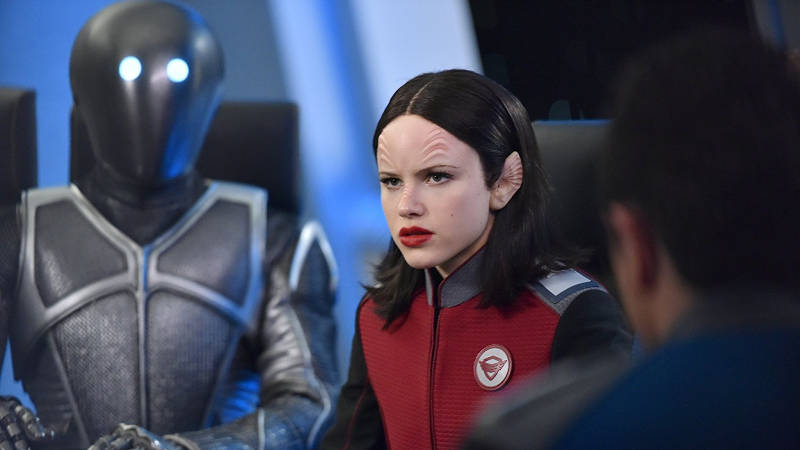 Any episode that features an establishing shot of a homicidal space clown seen way down at the end of the hallway in a stylistic homage to The Shining — followed by that clown charging full-tilt toward the protagonist — can't be all bad.
The shot gets your attention, that's for sure. It's laughably weird and head-scratchingly bizarre, but it tells you we are in strange territory. It happens because, as we eventually learn, anything here can happen. It's a strange moment that threatens to bring down "Firestorm" before the story has even had a chance to take off. But you know what? I remember that shot more than anything else. It stands out.
| Friday, November 10, 2017, 8:47 pm
The title for "Cupid's Dagger" tells you a good deal of what you need to know about this episode. It's in a long tradition of farcical comedies about people falling in love for reasons outside of their control, leading to broad silliness and embarrassment. Usually the question for a show like this is: Did I laugh or did I cringe? Maybe both?
Indeed, I saw this plot just earlier this year with Grimm's "Blind Love," which was a fun example of good-natured silliness as a humorous detour. It made me laugh, especially when a character fell in love with himself and sang into a mirror. That was a good twist. On the other hand, the cringe example that always immediately springs to mind is DS9's "Fascination," which was just an awful collision of characters rushing to the front of the line to embarrass themselves.
| Friday, November 3, 2017, 5:14 pm
It seems fitting that the first script credited to Voyager alums Brannon Braga and Andre Bormanis involves a Shuttle Crash [TM]. It's a shuttle crash that, from the looks of it, should've left everyone aboard, with the possible exception of Isaac, quite dead. The tail end of the shuttle even breaks off, like the plane in Lost. This leaves our crash survivors separated from each other.
Specifically, this leaves Dr. Claire Finn separated from her two young sons (we learn here that she's a single mother by choice), who are protected by Isaac, who must play the role of Dad to the two kids, Marcus and Ty (BJ Tanner and Kai Di'Nilo Wener), who — let's be honest — are pretty damn annoying. (Yes, kids can be annoying. I know this. I have two of them. That doesn't make it easier to watch annoying kids on TV.)