The Orville
| Thursday, February 21, 2019, 7:20 pm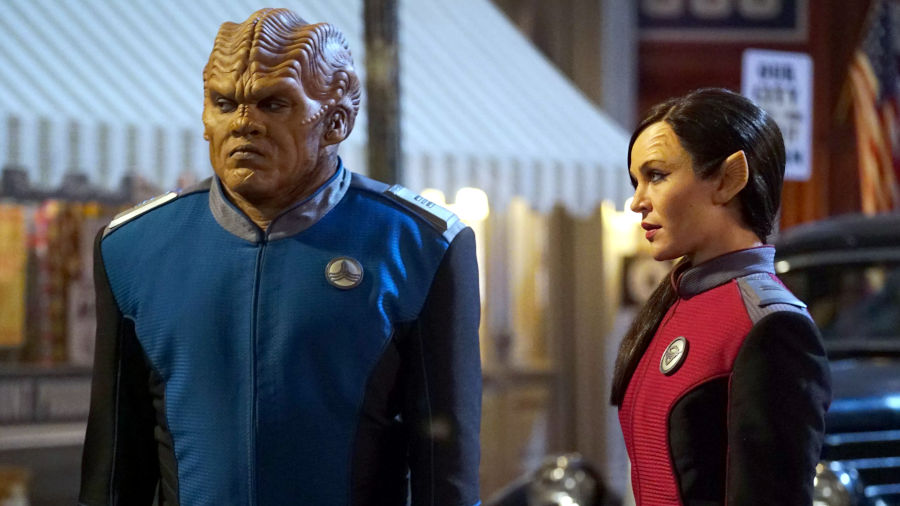 The most important dialogue in "Deflectors" comes near the end. "You know, the more I learn about the Moclans, the more I see that our differences go right to the core of our values," Ed says to Kelly. "How long can an alliance with a culture like that last?" It's a good question, one that helps acknowledge a disconcerting pattern that's been going on here across multiple episodes.
This is no less than the third episode of this series to detail Moclan culture as having some highly questionable qualities — forced gender reassignment in "About a Girl," divorce by murder in "Primal Urges," and now harsh prejudicial judgment for sexual preferences as seen here. A trend has emerged regarding the Moclans, and it's not so hunky-dory. So this must be going somewhere, right?
I hope so, because something ominous seems to be building, and stands in stark contrast to the use of Bortus' Moclan deadpan to provide the series' best comic delivery.
| Friday, February 1, 2019, 11:25 pm
Go big or go home.
That's the takeaway from "A Happy Refrain," in which Seth MacFarlane puts his money (well, Fox's money) and heart all-in on an hour of fanciful whimsy that will come off as either hugely affectionate or hugely self-indulgent, depending on your level of cynicism. Maybe both. Put me in the "both" camp.
I respect MacFarlane for having the guts to go so far out there and clearly dig so deep into his well of personal obsessions and put them out on the screen for everyone to see, even though this is the very opposite of cool. MacFarlane is clearly a hopeless romantic who believes in big, grand gestures as much as he believes in sophomoric jokes. The question to be answered is whether the concept can work within the confines of these characters. It tries very hard, and it comes close, but it ultimately falls short.
| Saturday, January 26, 2019, 4:01 pm
"All the World Is Birthday Cake," possibly more than any Orville episode so far, raises serious questions about what this series is trying to do and what the rules of this universe are. This is an episode that has an underlying concept that could really only have worked on TOS — where the rules of engagement did not yet exist for the audience. Meanwhile, it's got the story beats and filming style of TNG — minus all the violence, anyway. And then it has all the problems we associate with Voyager and Enterprise — pointless action and hard-headed aliens holding ridiculously absolute beliefs. The end result is the most heavy-handed episode of this series to date.
| Monday, January 21, 2019, 12:15 pm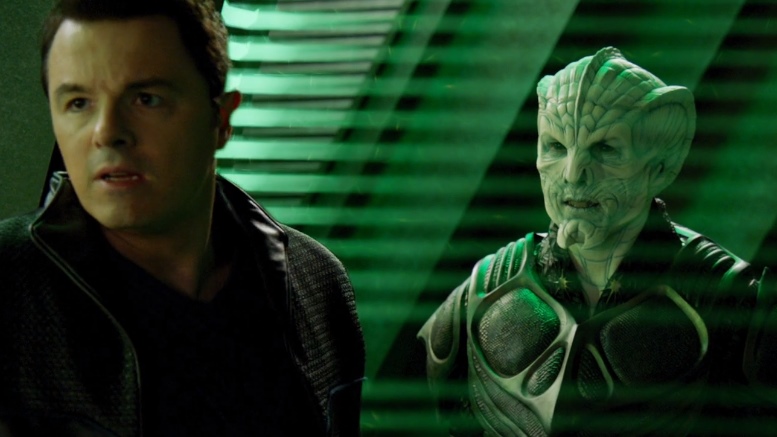 The biggest problem at the core of "Nothing Left on Earth Excepting Fishes" is that I just can't bring myself to care about Ed Mercer's poor broken heart, and the episode really, really wants me to. The second-biggest problem is this episode recycles so many over-worn tropes that I grew restless and bored with stretches of it.
Then there's the ending, which tries with all its might to be simultaneously offbeat and poignant (as a shuttle flies off to Billy Joel), but falls flat because such pretentions only work if there's a workable emotional core beneath the surface. There isn't here, so it feels like an audacious but empty artistic conceit. I'll give Seth and his crew an A for effort, but a C for the end result.
| Sunday, January 13, 2019, 7:00 pm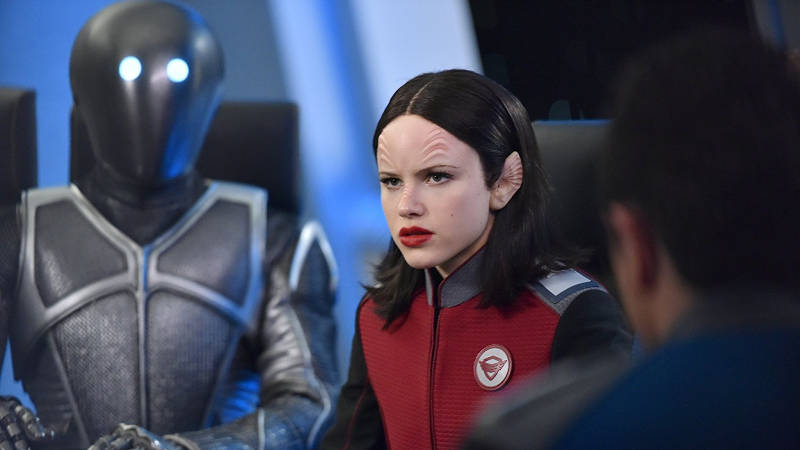 "Home" is an effective goodbye episode that writes out Alara Kitan in a dignified and poignant way. It might've worked better if she — or anyone on this series, for that matter — had been on the show longer. I'm not sure why Halston Sage is leaving the series already (there seems to be no "official" line on the matter; various rumors are out there), but the writers have given her a way to exit that fits the character as we've come to know her in this short time.
She's forced to return home when Dr. Finn discovers Alara's physical strength is diminishing because prolonged exposure to lower gravity has induced an atrophy that, if she doesn't return home, may become permanent, making it so she can never return home. How long she will need to remain home to recover is an open question. Varied case histories suggest it could be weeks, months, or forever.