The Orville
| Tuesday, January 1, 2019, 10:41 am
As a season premiere airing on a Sunday night right after football, "Ja'loja" plays almost like a radical act of counter-intuitiveness. The conventional thinking is to have a big or major episode as a premiere. "Ja'loja" takes the exact opposite approach. It is deliberately low in stakes, is character-driven, and is a bottle show to boot. It is a "hangout episode" where we spend time bouncing around various subplots that allow us to basically catch up with each of the regular characters. I respect the deliberate lack of ambition. I unfortunately can't get on board with some of the actual material.
| Thursday, December 27, 2018, 10:54 pm
The Orville
returns this Sunday, followed by
Discovery
on Jan. 17.
The first quarter of 2019 is going to hurt me. Either that, or there will not be as many reviews as I hope there will be.
The Orville premieres this Sunday (followed by a second episode on its regular night four days later), and then Discovery starts up on Jan. 17. I was able to somehow keep the wheels on in fall 2017 and early 2018 with my schedule and turn reviews out mostly on time (within a few days of episodes airing). Whether I can do that again remains to be seen. Finding time to write is not easy. I can already say it's not going to be as easy to do this year as it was last year. I have more going on.
So here is the plan, until such time that the plan changes, which is always a possibility. I will continue to put up weekly placeholder posts for comments (with no review) that will go up with each new airing of each episode the night it airs. I will then double back and post a review as soon as possible (hopefully within a few days) after the airing.
There's a good chance these reviews will not be as long, detailed, or thought out this time around. Almost certainly not as long or detailed, at least. I may have to sacrifice quality and completeness for my own sanity. I hate saying that, but it may be the truth. We'll see. I predicted that last time around and I can happily say I think the reviews turned out better than I had envisioned at the outset. Maybe that will happen again. But it very well may not, so please be forewarned. Time is the fire in which we burn. I expect to get singed pretty good in the next few months.
We'll see how it goes…
| Saturday, December 9, 2017, 4:43 pm
"Mad Idolatry" is one of the best episodes of The Orville this season, and certainly the most ambitious. It also takes me back to the very first episode to explore this series' primary baggage, which is: This show tries very hard to be Star Trek (except populated by Average Joes), which means it sets itself up for comparisons and expectations that are among some of the best examples of televised sci-fi.
In the case of this episode, it uses TNG's "Who Watches the Watchers" and Voyager's "Blink of an Eye" as starting points to examine its own take on the hazards of cultural contamination. It's a worthy tale that borrows aspects of classic episodes from those respective series. It thus invites the scrutiny of serious science fiction, even while employing characters that come off as amateurs. Can it survive that scrutiny?
| Tuesday, December 5, 2017, 9:13 pm
"New Dimensions" is a split-tiered story chronicling a day at the office aboard a Union starship, merged with a TNG-era tech story that sets the record for technobabble on this series (although it's certainly not record-setting when compared to TNG or Voyager). It's like a workplace drama/comedy mixed with middlebrow sci-fi. The narrative shifts can at times be jarring, albeit not nearly as jarring as some of the early comedy/drama tonal clashes seen on this series.
Let's start with the workplace drama, which is of considerably more consequence. Part of what this episode does is offer a take on how the workings of ship-wide personnel are conducted.
| Thursday, November 30, 2017, 1:47 am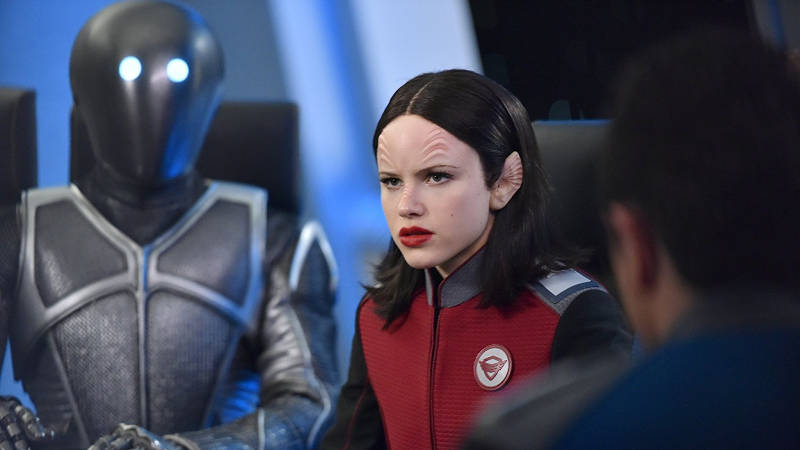 Any episode that features an establishing shot of a homicidal space clown seen way down at the end of the hallway in a stylistic homage to The Shining — followed by that clown charging full-tilt toward the protagonist — can't be all bad.
The shot gets your attention, that's for sure. It's laughably weird and head-scratchingly bizarre, but it tells you we are in strange territory. It happens because, as we eventually learn, anything here can happen. It's a strange moment that threatens to bring down "Firestorm" before the story has even had a chance to take off. But you know what? I remember that shot more than anything else. It stands out.