The Orville
| Thursday, March 7, 2019, 2:24 am
Like with many resolutions to alleged status-quo-shattering cliffhangers, "Identity, Part II" fails to live up to its setup. Oh, sure: The episode builds to a prolonged ending battle sequence that doesn't disappoint — a real humdinger of pyrotechnics that outdoes anything even remotely attempted on this series. (I don't use the word "humdinger" lightly; it's very possible I've never actually typed that word before.) As the Dude once said: And that's cool. That's cool. But the real question of this episode was how they would bring Isaac back (or indeed if they believably could) after he seemingly went past the point of no return by helping the Kaylon seize control of the Orville, killing a bunch of its crew in the process.
| Tuesday, February 26, 2019, 9:16 pm
"Identity, Part 1" is the best and most involving episode of The Orville so far. That it holds that distinction and still is not enough to be called "great" (at least in my book) is perhaps a problem, but this series is still young and it occupies an admittedly odd space.
The Orville is generally too cavalier to be considered serious, yet too serious to embrace the idea of a true satire/spoof. It loves Trek far too much to lampoon it. So it occupies the land of a seriocomic homage, which can make its universe hard to accept on straightforward dramatic terms. That fact must be confronted here, where an existential threat comes off more like a really cool cinematic concept than something we truly believe.
| Thursday, February 21, 2019, 7:20 pm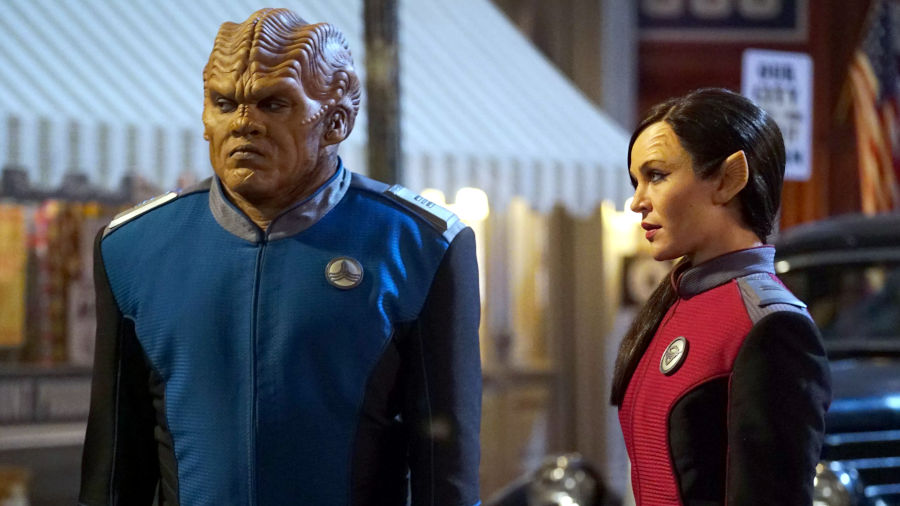 The most important dialogue in "Deflectors" comes near the end. "You know, the more I learn about the Moclans, the more I see that our differences go right to the core of our values," Ed says to Kelly. "How long can an alliance with a culture like that last?" It's a good question, one that helps acknowledge a disconcerting pattern that's been going on here across multiple episodes.
This is no less than the third episode of this series to detail Moclan culture as having some highly questionable qualities — forced gender reassignment in "About a Girl," divorce by murder in "Primal Urges," and now harsh prejudicial judgment for sexual preferences as seen here. A trend has emerged regarding the Moclans, and it's not so hunky-dory. So this must be going somewhere, right?
I hope so, because something ominous seems to be building, and stands in stark contrast to the use of Bortus' Moclan deadpan to provide the series' best comic delivery.
| Friday, February 1, 2019, 11:25 pm
Go big or go home.
That's the takeaway from "A Happy Refrain," in which Seth MacFarlane puts his money (well, Fox's money) and heart all-in on an hour of fanciful whimsy that will come off as either hugely affectionate or hugely self-indulgent, depending on your level of cynicism. Maybe both. Put me in the "both" camp.
I respect MacFarlane for having the guts to go so far out there and clearly dig so deep into his well of personal obsessions and put them out on the screen for everyone to see, even though this is the very opposite of cool. MacFarlane is clearly a hopeless romantic who believes in big, grand gestures as much as he believes in sophomoric jokes. The question to be answered is whether the concept can work within the confines of these characters. It tries very hard, and it comes close, but it ultimately falls short.
| Saturday, January 26, 2019, 4:01 pm
"All the World Is Birthday Cake," possibly more than any Orville episode so far, raises serious questions about what this series is trying to do and what the rules of this universe are. This is an episode that has an underlying concept that could really only have worked on TOS — where the rules of engagement did not yet exist for the audience. Meanwhile, it's got the story beats and filming style of TNG — minus all the violence, anyway. And then it has all the problems we associate with Voyager and Enterprise — pointless action and hard-headed aliens holding ridiculously absolute beliefs. The end result is the most heavy-handed episode of this series to date.