Television
| Sunday, January 21, 2018, 11:23 am
The issues of one's identity in the Mirror Universe, effectively established in last week's "Despite Yourself," heat up in the crucible that is "The Wolf Inside," which uses the MU through Burnham's perspective to ask the question of what it means to live a life of lies while here. Can you lose yourself in a brutal world where you have to pretend to be one of the brutes to survive? Will the brutality chip away at your humanity and your soul?
These questions are explored early through a voice-over narration that tells more than it shows. But what this monologue may lack in demonstrated on-screen action is made up for with sheer narrative economy. We know where Burnham stands and we're able to see the madness through her eyes, and it's a troubling place. If the MU provides reflections on our characters, no one is seeing the potential for more horrifying potentials than Michael. This is interesting, because self-reflection has been a key point for this character since the fallout from her role in those first two episodes that landed her prison. But now it rears its head under even more dire circumstances.
| Monday, January 8, 2018, 11:50 pm
"Into the Forest I Go" was an hour that brought a lot of pieces together in this uneven first season of Discovery, and it ended with a final twist that we now see serves as a sharp left turn into a new arc set in Trek's Mirror Universe. The MU was of course famously established in TOS's "Mirror, Mirror," before lying dormant for decades until DS9 picked up the mantle for its annual hijinks. Then in its final season, Enterprise also ventured into the arena with "In a Mirror, Darkly," which featured some time-bending that brought the USS Defiant back from the TOS era into the Enterprise's prequel era. The events surrounding the Defiant are specifically referenced in "Despite Yourself," which is a solid outing that sets up this new setting and looks to be just the beginning.
| Saturday, December 9, 2017, 4:43 pm
"Mad Idolatry" is one of the best episodes of The Orville this season, and certainly the most ambitious. It also takes me back to the very first episode to explore this series' primary baggage, which is: This show tries very hard to be Star Trek (except populated by Average Joes), which means it sets itself up for comparisons and expectations that are among some of the best examples of televised sci-fi.
In the case of this episode, it uses TNG's "Who Watches the Watchers" and Voyager's "Blink of an Eye" as starting points to examine its own take on the hazards of cultural contamination. It's a worthy tale that borrows aspects of classic episodes from those respective series. It thus invites the scrutiny of serious science fiction, even while employing characters that come off as amateurs. Can it survive that scrutiny?
| Tuesday, December 5, 2017, 9:13 pm
"New Dimensions" is a split-tiered story chronicling a day at the office aboard a Union starship, merged with a TNG-era tech story that sets the record for technobabble on this series (although it's certainly not record-setting when compared to TNG or Voyager). It's like a workplace drama/comedy mixed with middlebrow sci-fi. The narrative shifts can at times be jarring, albeit not nearly as jarring as some of the early comedy/drama tonal clashes seen on this series.
Let's start with the workplace drama, which is of considerably more consequence. Part of what this episode does is offer a take on how the workings of ship-wide personnel are conducted.
| Thursday, November 30, 2017, 1:47 am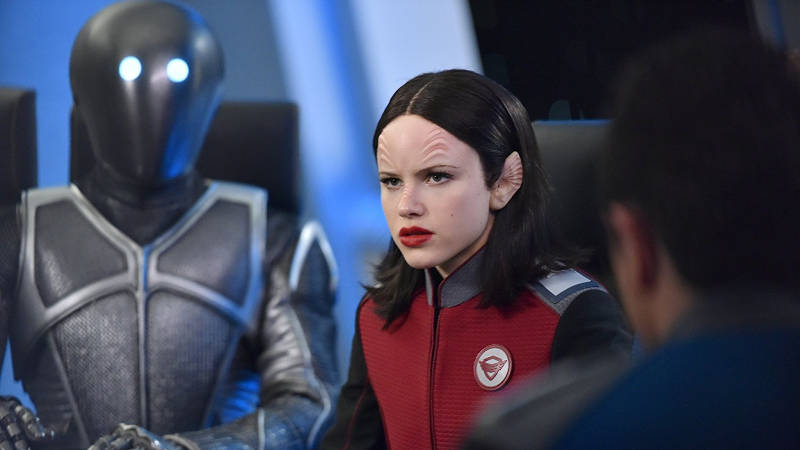 Any episode that features an establishing shot of a homicidal space clown seen way down at the end of the hallway in a stylistic homage to The Shining — followed by that clown charging full-tilt toward the protagonist — can't be all bad.
The shot gets your attention, that's for sure. It's laughably weird and head-scratchingly bizarre, but it tells you we are in strange territory. It happens because, as we eventually learn, anything here can happen. It's a strange moment that threatens to bring down "Firestorm" before the story has even had a chance to take off. But you know what? I remember that shot more than anything else. It stands out.