'24': The lamentable Dana Walsh situation
| Wednesday, March 17, 2010, 1:06 am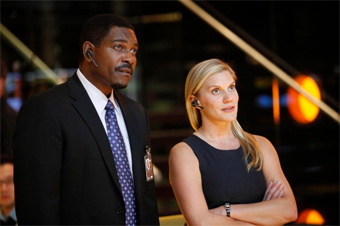 Brian Hastings (Mykelti Williamson) and Dana Walsh (Katee Sackhoff) do counter-terrorist stuff at CTU in season eight of "24."
Word is, this is going to end up being the last season for 24. Based on what we've seen this season, I'm thinking that wouldn't be such a bad idea, especially if it allows the show to just get it over with and become a movie franchise.
24 as a series has gotten awfully long in the tooth, and clearly it has simply run out of ideas. The question is not whether the show will surprise us, but whether the show will be entertaining enough in recycling itself to deliver respectably for an hour. I'm not sure what's worse: The general malaise of this season, or the haphazardly messy multiple shark-jumping of season six. Season eight has so far merely alternated between the typically competent 24 action moments, plenty of mediocre beats, and lots of filler.
But by far the worst thing about this season has been what about the last thing any fan of Battlestar Galactica like me would've expected: that any scene featuring Katee Sackhoff, as CTU analyst Dana Walsh, would immediately lead to eye-rolling and infuriation. Sackhoff occupies a subplot that sucks beyond belief and is stupid beyond words. Even in the world that is 24, which we know and expect (and generally accept) to be endlessly contrived, this storyline defies sense at every turn.
To sum up, Dana Walsh works at CTU, but she has a Bad Secret Past which she has hidden by faking her identity and creating a new name. How she could do that and get by background checks into a job at a government anti-terror agency, I can only guess, but never mind.
She's engaged to a CTU coworker played by Freddie Prinze Jr. But then her Sullied Past caught up with her, in the form of a loser criminal a-hole of an acquaintance who found her and decided to blackmail her into doing various nefarious things for him that would surely get her fired and/or arrested if anyone ever found out. Early episodes of the season featured Dana Walsh being terrorized by this lame-ass loser of a character (and Sackhoff acting really, really scared of him) when what we're really waiting for is for Starbuck to simply kick his ass and be done with it.
I cannot tell you how many scenes in this idiotic plot could've been solved by Dana Walsh simply NOT ANSWERING HER GODDAMNED CELL PHONE or simply HANGING IT UP — which, by the way, you'd think should not be answered while she's running a counter-terrorist surveillance operation in the middle of a FREAKING GOVERNMENT INTELLIGENCE AGENCY.
Ultimately, Loser Guy ends up dead, via plot machinations I won't bore you with. Now Dana Walsh and her fiance must cover up the deaths. Later, Stephen Root (!) shows up as Loser Guy's parole officer, wondering, at 3 a.m. of all times, why he can't contact his missing parolee. Just when we thought we were out, they pull us back in; this sets in motion yet another situation where the screws are put to Dana Walsh and she must squirm while we watch in disbelief how this makes no sense whatsoever. Really? A parole officer is looking for some loser at 3 a.m. because said loser has been missing for, what, four hours? Really? And now parole officer comes to government anti-terror office to question this possible witness, in between moments where she tries to help TRACK DOWN MISSING NUCLEAR RODS? Yeah. That works.
You had to pick up the phone, Dana. And then instead of hanging it up, you look all scared and then do exactly the opposite of what might defuse the situation. Good job.
All of this is accomplished with Katee Sackhoff doing her damnedest to look scared, and desperate, and boxed in, and trapped, with the walls just CLOSING IN, I tell ya! The performance doesn't work, because the character doesn't work, because the plot the character is trapped in doesn't work, because, well, it's just godawful writing.
I detest this plot not simply because it's terrible and defies all logic, but because it makes mincemeat of Katee Sackhoff, which is just a shame.
Like this site? Support it by buying Jammer a coffee.
Submit a comment
RSS feed for comments on this post