The Orville
| Monday, January 21, 2019, 12:15 pm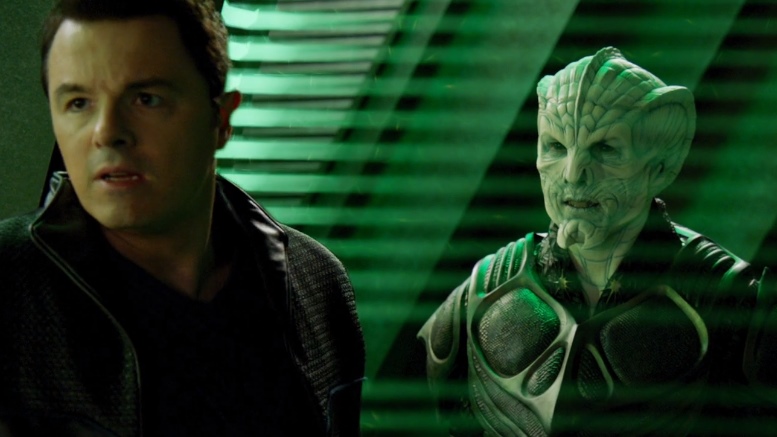 The biggest problem at the core of "Nothing Left on Earth Excepting Fishes" is that I just can't bring myself to care about Ed Mercer's poor broken heart, and the episode really, really wants me to. The second-biggest problem is this episode recycles so many over-worn tropes that I grew restless and bored with stretches of it.
Then there's the ending, which tries with all its might to be simultaneously offbeat and poignant (as a shuttle flies off to Billy Joel), but falls flat because such pretentions only work if there's a workable emotional core beneath the surface. There isn't here, so it feels like an audacious but empty artistic conceit. I'll give Seth and his crew an A for effort, but a C for the end result.
| Sunday, January 13, 2019, 7:00 pm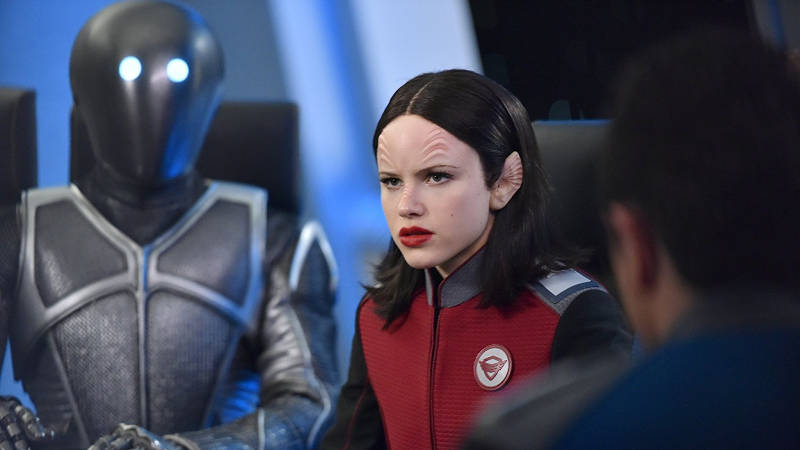 "Home" is an effective goodbye episode that writes out Alara Kitan in a dignified and poignant way. It might've worked better if she — or anyone on this series, for that matter — had been on the show longer. I'm not sure why Halston Sage is leaving the series already (there seems to be no "official" line on the matter; various rumors are out there), but the writers have given her a way to exit that fits the character as we've come to know her in this short time.
She's forced to return home when Dr. Finn discovers Alara's physical strength is diminishing because prolonged exposure to lower gravity has induced an atrophy that, if she doesn't return home, may become permanent, making it so she can never return home. How long she will need to remain home to recover is an open question. Varied case histories suggest it could be weeks, months, or forever.
| Friday, January 4, 2019, 8:46 pm
"Primal Urges" is an episode in need of a good script doctor. Maybe Dr. Finn should add "script doctor" to her resume. After all, she adds "marriage counselor" to it here (where apparently an MD and a psychology PhD fall under one umbrella), in an episode that bounces around like a haphazard mess. This is an ambitious episode prone to frequent tonal and narrative whiplash, and boy does it not work.
In it, Bortus suffers from holographic porn addiction, which has negative consequences for his marriage to Klyden. Bortus lies about what he's doing (claiming to work long hours when he's really in the EV simulator), they haven't had sex for a very long time, and they argue frequently in terse shouts. It's exactly like if you took two Klingon dudes and gave them dialogue from some sort of self-help video about a failing marriage. The dialogue itself is banal and cliched; it's the fact that it's happening between two Moclan tough guys in Worf-like laconic deadpan that's supposed to give it an ironic twist. That is something, I suppose. It is not enough.
| Tuesday, January 1, 2019, 10:41 am
As a season premiere airing on a Sunday night right after football, "Ja'loja" plays almost like a radical act of counter-intuitiveness. The conventional thinking is to have a big or major episode as a premiere. "Ja'loja" takes the exact opposite approach. It is deliberately low in stakes, is character-driven, and is a bottle show to boot. It is a "hangout episode" where we spend time bouncing around various subplots that allow us to basically catch up with each of the regular characters. I respect the deliberate lack of ambition. I unfortunately can't get on board with some of the actual material.
| Thursday, December 27, 2018, 10:54 pm
The Orville
returns this Sunday, followed by
Discovery
on Jan. 17.
The first quarter of 2019 is going to hurt me. Either that, or there will not be as many reviews as I hope there will be.
The Orville premieres this Sunday (followed by a second episode on its regular night four days later), and then Discovery starts up on Jan. 17. I was able to somehow keep the wheels on in fall 2017 and early 2018 with my schedule and turn reviews out mostly on time (within a few days of episodes airing). Whether I can do that again remains to be seen. Finding time to write is not easy. I can already say it's not going to be as easy to do this year as it was last year. I have more going on.
So here is the plan, until such time that the plan changes, which is always a possibility. I will continue to put up weekly placeholder posts for comments (with no review) that will go up with each new airing of each episode the night it airs. I will then double back and post a review as soon as possible (hopefully within a few days) after the airing.
There's a good chance these reviews will not be as long, detailed, or thought out this time around. Almost certainly not as long or detailed, at least. I may have to sacrifice quality and completeness for my own sanity. I hate saying that, but it may be the truth. We'll see. I predicted that last time around and I can happily say I think the reviews turned out better than I had envisioned at the outset. Maybe that will happen again. But it very well may not, so please be forewarned. Time is the fire in which we burn. I expect to get singed pretty good in the next few months.
We'll see how it goes…